A TREASURY OF BIBLE TRUTHS & MINISTRY HELPS
Discover a treasury of Bible truths through books, preaching & Christian music found in our OnLine Shop.
KEEP IN TOUCH THROUGH SOCIAL MEDIA!

Download Our App for Mobile Devices!
From Your Mobile Phone - Visit The "App Store" for Apple or
"Google Play" Store for Android - Search "The Gospel Hour Inc"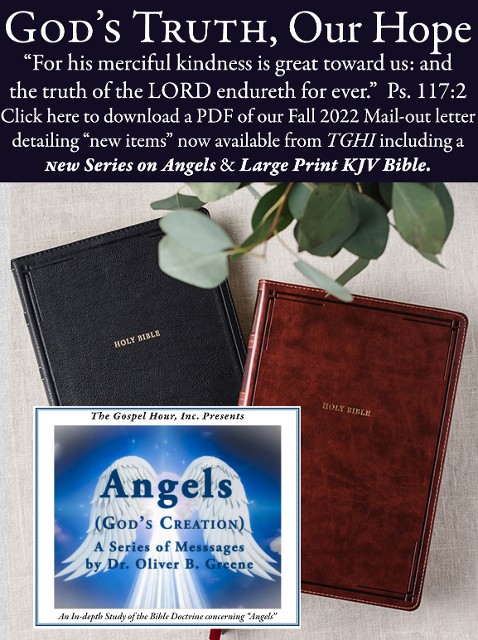 "Now the God of hope fill you with all joy and peace in believing, that ye may abound in hope, through the power of the Holy Ghost." Romans 15:13
The Gospel Hour Radio Program
What's On This Week! (Listen On-Line)
Mon-Fri (Dec. 5-9, 2022) Next Week of our verse-by-verse Study of "Acts" by Dr. Greene
Saturday (Dec 10, 2022) Next Message in our Series entitled "Wonderful Christ"
Sunday (Dec 11, 2022) Next Message in our New Sunday Series "Are You Saved? If Not, Why Not?"
This Week's Gift Appreciation Offer
As our regular listeners know we are a faith ministry totally supported by your free will donations. Any donation you make is important and appreciated. By donating, you are a part of this ministry and with your gift, encourage the saved and help us reach lost souls for Christ. This week, when you donate at least $10 or more and ask for "Gift Offer E", we will send you the following items: First a 2 CD Collection containing a classic Christmas message by Dr. Greene on one CD and on the other, Christmas songs by The Gospel Hour Singers & Musicians; we call it "Celebrating His Birth in Sermon and Song (Volume 2)." Next, we are including 5 copies of our 4-page tract, "A Gift for You" which shares the greatest gift of all, the gift of Salvation, through faith in Christ. Fianlly, the musical album "Great Tidings of Joy"; 12 classic Christmas songs plus a beautiful Medley of Christmas favorites by The Gospel Hour Singers & Musicians. All items, are available for a Gift of $10 or more when you request Gift Offer E. Click Here to Order! Thank you for supporting this Ministry with your prayers and donations.
Need a Bible? Though not available online, we have an excellent selection of Bibles. Just write or call today; download our Catalogue of Materials to view our selection of KJV Bibles for children and adults.