A TREASURY OF BIBLE TRUTHS & MINISTRY HELPS
Discover a treasury of Bible truths through books, preaching & Christian music found in our NEW 2022 Catalogue of Ministry Materials.
KEEP IN TOUCH THROUGH SOCIAL MEDIA!

Download Our App for Mobile Devices!

From Your Mobile Phone-Visit The "App Store" for Apple
or "Google Play" Store for Android - Search "Gospel Hour"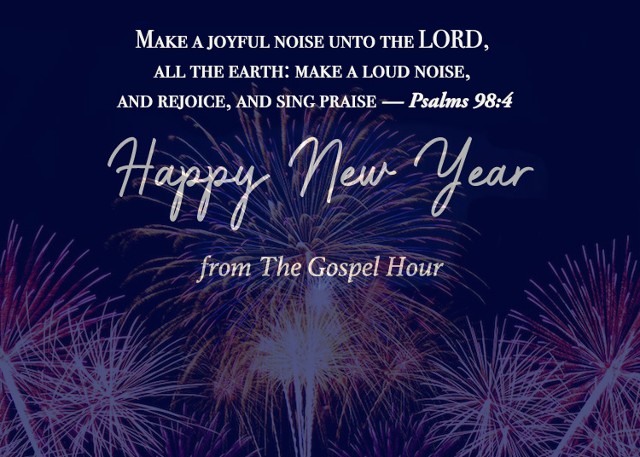 Wishing Everyone a Safe & Blessed 2022
CLICK HERE to DOWNLOAD a PDF of our New 2022 Catalogue of Ministry Materials.
The Gospel Hour Radio Program
What's On This Week! (Listen On-Line)
Monday-Friday (January 11-15, 2022) Second week of our Verse-by-Verse Study of "Colossians" by Dr. Greene
Saturday (January 16, 2022) Next Message in our Saturday Only Series, "What Must I Do to be Saved?"
Sunday (January 17, 2022) Next Message in our Sunday Only Study "The Holy Spirit"
This Week's Gift Appreciation Offer
As our regular listeners know we are a faith ministry totally supported by your free will donations. Any donation you make, in any amount, is important and appreciated. By donating, you are a part of The Gospel Hour ministry and with your gift, help us reach lost souls for Christ with the saving grace of His love. This week, when you make a donation of at least $10 or more and ask for "Gift Offer "L", we will send you the following three items: First, we have a perfect-bound book, 129-pages long, inspired by the Book of Psalms and writen by Mrs. Oliver B. Greene, it's entitled "I Will Trust". This book contains 9 messages that offer hope and encouragement to those going through tough times. Next, we have a small perfect-bound book, easy to carry in a coat pocket or purse, containing 70 helpful categories of Scriptures in alphabetical order by topic, entitled, "The Bible Promise Book". Finally, 5 copies of a 4-page tract to share with others that contains the classic and timeless inspirational poem, "The Touch of the Master's Hands". All items are yours for a Gift of $10 or more when you request Gift Offer L, Click Here to Order! Thank you for supporting this Ministry with your prayers and donations.